We spent 4 years of developing the newest innovation in the automotive aftermarket. We want to get our product out there and to directly scale up our production in order to make our product affordable. 
Seen the market potential of the TORQAMP, the disrupting effect it will have on the complete automotive sector and especially on the performance and race industry, we decided NOT to enter the market sooner than when we proved ourselves to have a product that would not break down, be easy to produce and scale up and that would only amaze our customers in the most positive way. 
TORQAMP is not only about performance increase and motorsport. We have the ambition to make every Diesel in the world cleaner, which can be done with the TORQAMP. 
Next to our green Diesel ambitions, we also have Hydrogen ambitions! Our TORQAMP is namely the perfect air compressor for fuel cells. The TORQAMP actually makes fuel cells more affordable since fuel cell air compressors (currently available in the market) are one of the more expensive components for these setups.
The TORQAMP founders and developers are Daniël Hilgersom a.k.a. "The Professor" and Jelke Hoekstra a.k.a. "The Dude".
Daniël and Jelke are both inspired by science, combining existing markets and products into new products and market opportunities, innovative products and alternative organizations and by being different without wanting to be different.
Daniël Hilgersom - Co-founder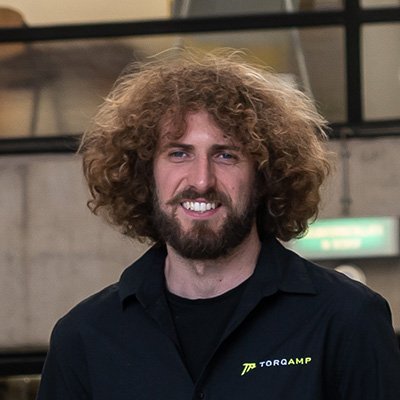 Daniël is a genius regarding electronics, applied physics and math. Daniël is responsible for the theoretical calculations behind the TORQAMP, the design of the electronics and the integration with modern vehicles. Daniël has a bachelor degree in Electronics and a masters degree automotive technology which he received at the  Eindhoven University of Technology.  
Jelke Hoekstra - Co-founder
Jelke is responsible for the mechanical design of the TORQAMP, the optimization for series production and supplier selection. Jelke has a bachelor degree in mechanical engineering and a masters degree in entrepreneurship and new business venturing which he received at the Rotterdam School of Management, Erasmus University.